Home

/

250ml OKO Puncture Free Bike for tubes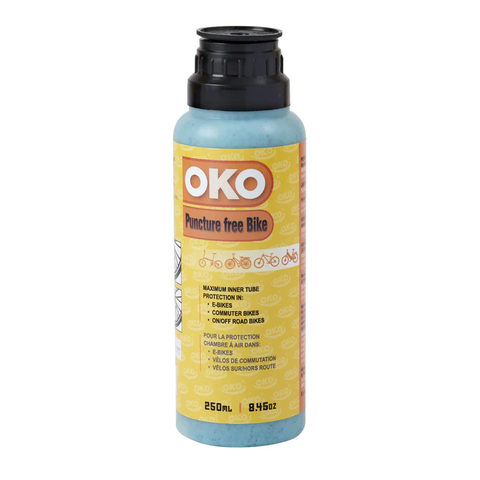 250ml OKO Puncture Free Bike for tubes
Regular Price:
$16.99 Incl. GST
Description
OKO PUNCTURE FREE BIKE 250 ML
OKO Puncture Free Bike 250 ml
250 ml bottle deals with one large bike with some to spare: up to 20% less weight than any recognised competitor. It's a really economical way of ensuring peace of mind, for a fraction of the cost of replacing just one tyre.
Simple fitting, using the valve core remover and Schrader valve-sized filling tube supplied in every bottle cap: or use an OKO Tyre Sealant Injector for easy, accurate measuring.
ONLY SUITABLE FOR SEALING IN A TUBE.
NOT TO BE USED AS A TUBELESS SEALANT!!!
Benefits
• Not latex-based
• Lasts the life of the tyre
• Combats larger punctures: contains aramid fibres
• Seals multiple holes
• Contains corrosion inhibitors
• Water-soluble
• Non Hazardous
Characteristics
Non Corrosive: Non Flammable: Non Hazardous (not excluded from air shipments unlike some ammonia-containing products). Washes out of the tyre if required.
NO ADVERSE AFFECT UPON TYRES OR RIMS (contains anti-corrosion agents).
WORKS WITH INNER TUBES and FULL UST TUBELESS WHEELS/TYRES, with Schrader or removable-type Presta valves.
(For 'Tubeless Ready' tyres, use a rim strip and OKO Magic Milk™, which is the lightest and best sealant to seal the bead/rim gaps and the porous sidewalls).
Colour: Blue. Viscous. Low Odour.
Required quantities per tyre
• Up to 18": 50ml
• BMX 20": 80ml
• Junior MTB 22-24": 80ml
• MTB 26": 100ml
• 700C: 80-100ml
• MTB 29″: 120-140ml
Precautions
No risk and safety labels or warnings are required since this product is not classified as hazardous under current regulations. Normal safety precautions should be taken: wear gloves and protect eyes. Rinse product off any clothes that it may be spilled upon. Keep away from children. If swallowed, see a doctor.