Home

/

Metallic Drum Application Pump with Presta Adaptor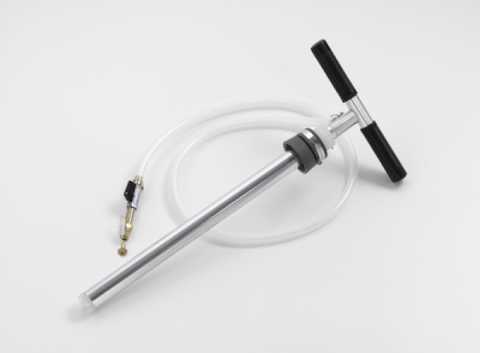 Metallic Drum Application Pump with Presta Adaptor
Description
Description
This is a special all-alloy calibrated application drum pump which easily fits on to the threaded opening of our OKO Puncture Free Bike or OKO X-Treme 25 litre tyre sealant drums.
It is ideal for bike service workshops and can be used to supply a puncture-proofing service to buyers of bikes with inner tubes including e-bikes, touring bikes, commuter bikes, and mountain bikes.
The pump has an adjustable collar to limit the length of the downward stroke, and markings on the aluminium shaft measure the required stroke to dispense 50ml, 100ml, 150 ml, 200 ml, or 250 ml of sealant. This covers all bicycle tyre size requirements (and larger vehicles). There is a valve attachment to allow application to (removable-core) Presta valve stems. The normal nozzle clamps on to a Schrader valve core. A new tap feature allows you to prime the pump and apply without any mess or product loss.
It is very hard wearing and strong and comes with a 3 year guarantee for malfunction; upon return to us we will supply you with a replacement.
Instructions for use:
Screw the OKO application pump to the top of the drum (the pump replaces the cap). Adjust the collar on the shaft to the required marking and tighten the screw. Remove the valve core and clip on the end of the drum hose. Make sure the nozzle tap is closed and pump OKO though the hose as far as the tap. Raise the pump handle. Open the tap and depress the handle to dose the required amount. Close the tap, unclip the hose and screw the valve core back in. Inflate the tyre up to normal pressure. The tyre will now be protected.
With the high pressure OKO pump the OKO sealant may be inserted against tyre pressure.
Check the product web page for the quantity of OKO required.
After use the application pump must be washed clean by priming the pump to remove any surplus sealant whilst the hose is dipped in a bucket of water.